About
Engaging stakeholders through web-based debating platforms is an effective way to facilitate the entrepreneurial discovery process within a region. These platforms allow policymakers to organise discussions, debates and idea generation online, for example, on the region's vision, policies and opportunities with all stakeholder groups. Thus, they provide an excellent opportunity for not only increasing stakeholder participation but also the transparency and legitimacy of the RIS3 process and its outcomes. For facilitating online discussions, we suggest using two applications:
Discuto
DebateGraph
These applications take somewhat different approaches to facilitating discussion with stakeholders. You can inspect and test both and select the one that is best suited for your purposes.
Discuto
Discuto is a platform for collaborative decision-making. It supports both private and public discussions on documents, collecting feedback, identifying conflicting views and reaching consensus among stakeholders. This is how to use the tool:
Upload a document (e.g. a proposal) onto the platform and start a discussion. The document is automatically divided into sentences and paragraphs.
Invite stakeholders to contribute via email.
Stakeholders may comment and vote sections of your text.
Identify controversial topics and make appropriate changes to reach consensus.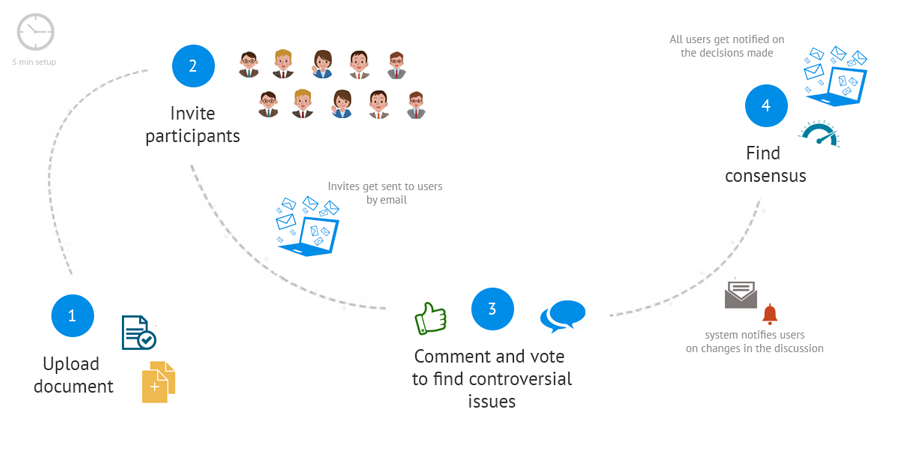 This simple process allows facilitating discussions and debates with stakeholders in a quick and open way.
The basic functionalities of the tool are free but upgrading to a paid subscription provides an access to some other useful functionalities, such as the idea generation process and information pages for your discussions and region. You can check the subscription options here.
DebateGraph
DebateGraph is a tool that combines reasoning activities with collaborative and iterative reflection, making them more open and clear. The tool is based on argument mapping that enables policy-makers and stakeholders to visualise and share networks of thoughts. Consequently, the tool is great for brainstorming and debating ideas about the regional opportunities to specialise.
Moreover, visualising the regional problems, issues and ideas result in a valid overview of the regional challenges. Due to the collaborative editing features, the collective knowledge and views can be shared among the stakeholders.
Additionally, if collaborators detect any information or idea gaps in the map, they may add new ideas to the map. As a result, the argument map becomes more versatile and the regional stakeholders may see what other stakeholders want and suggest.
This is the summary of how to use DebateGraph:
Create a debate map on DebateGraph to identify challenges that need to be overcome.
Create positions and sub-positions of the challenges.
Write arguments both supportive and opposing.
Include other scenarios and manage the graphs.
Rank the arguments and ideas.
Label the arguments and ideas by different stakeholders.
Rate the significance and merits of the problems, positions and arguments.
Pick out the arguments that are seen as weak or strong.
Analyse, seek and relocate arguments around the map.
Direct arguments to external locations.
DebateGraph is a completely free online service.